Car washes can be hard on the fragile power antenna mast in the Lincoln Town Car. However, it is relatively easy to replace and not very expensive. Antenna masts can be found frequently on Ebay for between $10 and $20. This procedure also applies to most Lincoln Automobiles.
Tools:
-Needle Nose Pliers
With needle nose pliers, insert nose into slots on nut at top of antenna base.
Remove nut and base from antenna mast. Turn car stereo on, remove antenna mast and nylon cable by pulling from power motor assembly.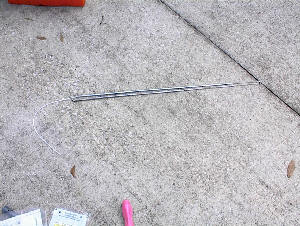 *NOTE - Measure length of new antenna mast against old antenna mast. (In this picture, there is no nylon cable attached to mast). If they match in length, insert new mast and turn stereo off. Feed nylon cable into motor. Install mast base and nut. If they do not match in length continue with instructions.
Turn car stereo on/off for testing.
Remove two plastic side panel tabs from panel.
Pull side panel from car, feeding manual gas flap release through panel.
Disconnect antenna cable and connectors from power antenna assembly. Remove bolts securing power antenna motor assembly.
Place antenna motor assembly on flat ground for disassembly.
Remove cover from power antenna motor assembly.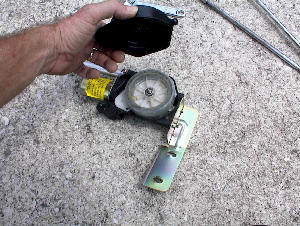 Remove gear assembly.
Remove nylon cable from cover.
Inspect power assembly for debris and pieces of nylon cable.
Reassemble and assembly into car.
Turn car stereo one, allow power antenna to cycle, feed nylon cable into antenna and turn car stereo off.
Install antenna base and nut.