Administrator
Staff member
Joined

Mar 2, 2004
Messages

6,050
Reaction score

118
Location
http://www.mastergraphics.com/wordpress/2013/3d-printing-obsolete-automotive-replacement-parts/
I recently bought a 97 Lincoln Mark VIII to fix up, and shortly after discovered that while the AC blows cold, there was no heat on any setting. As someone who often buys, fixes and sells cars, this is nothing I wasn't prepared to deal with, or so I thought…
So I did some basic research, it turns out this is a pretty common problem with these cars, as the motor that actuates the hot/cold blend door under the dash is known to fail with age. The plastic gets brittle over the years, and eventually cracks. The part itself was really inexpensive, had I been able to buy one. The picture below show the original part, and the broken pieces above it.
This picture shows what the original, broken part looked like.
After doing some searching, I got a call with some bad news. That little plastic lever was no longer available anywhere. Nothing in any dealer stock, nothing in any salvage yard, nothing on the internet. I started thinking there is no way this silly little part is going to stop my completion of this project.
So I gathered up the broken pieces, and scotch-taped them back together. I measured the old part with calipers and modeled it back up in Inventor. I even made some minor improvements to add strength and prevent the same fate. Then I sent the model to our 3d Printer and printed 2 copies right away. When the dashboard was reassembled, the printed part worked perfectly.
I believe the future of 3d printing is going to be huge. Every day people are coming up with more new ways to leverage this technology. After my experience above, I started thinking about all the past hours I have spent scouring swap meets and searching online for some little bracket or piece of trim that was holding up a build. Now I realize that if I can just get it modeled or scanned into 3d data, I can print just about anything.
Here is the Inventor Model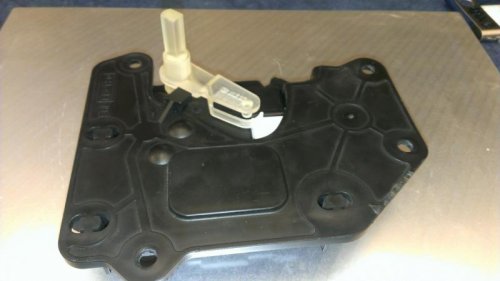 Here is the final part, assembled onto the blend door motor.
Jim Ritter
Application Engineer
Manufacturing CAD and Data Management Specialist
MasterGraphics Inc.