Joined

Aug 8, 2004
Messages

1
Reaction score

0
Location
I recently got my corsa intake (from WXM) and installed it . With a reputation corsa has I'm actually surprised of how poorly made/ engineered this product is.also on the packing slip it says 'TMG performance products , Corsa / Volant' and after googling 'Volant intake' on images I noticed that the parts (hardware,brakcets,sleeve,filter) are very similar.
I've contacted Corsa already about then take , I spoke to a gentleman name Jon and he said that they'll be bringing in another cts-v and meet with the engineer that designed the intake and that he'll be getting back to me after they look into it before he sends me any parts .
This has nothing to do with WXM cause they have been very excellent to our community ! It's the product .
I sold my airaid that was excellent fit and nice install (which I regret selling and probably end up getting another one).
-the quality of the housing is a really cheap plastic and has no type of heat shield which may have caused the intake air temp to go up FAST when I was at a stop light.
-the MAF sensor won't fit flush unless you sand/grind /cut that part off (I wasn't too happy about having to do that ) since the corsa didn't have the indentation for it on the intake.
-the MAF sensor harness is so tight that there is no play / wiggle room , I'm afraid when the motor moves under load it'll pull on it stretch out the wires and eventually rip it and cause issues, Jon told me this is a easy fix by just unclipping the zip tie that's around the harness. ( I'd prefer not to do that )
-I didn't have a issue with the the grommet cause I used a seprate heater hose connecter cause I have the WXM catchcans.
-the whine on this one is not are loud as the Airaid.
-the metal bar that is used so the engine / beauty cover interlocks with is to thin which cause the beauty cover to pop out and move out of place it basically just sits / resting on it.
Overall for what this cost I wouldn't recommend this intake , atleast not now til / if they fix everything and make it right.
Here's some pics
MAF sensor , I circled the part that needs to grinded
Stock intake with the notch / indentation
corsa (sorry it's kinda hard to see)
MAF sensor harness no play
Metal bar that interlocks with the cover.
This is what it looks like when your done , I've also tried adjusting / reposition it certain ways but all comes out looking this .
Corsa metal plate can be removed , it's just a tiny Phillips screw .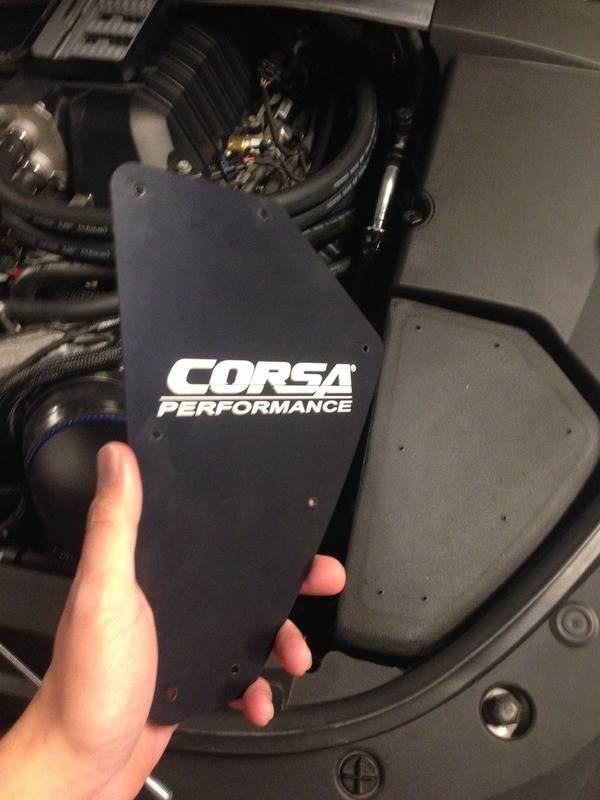 Quick vid
[video=youtube_share;ohQgIoYalAo]http://youtu.be/ohQgIoYalAo[/video]
I used one of these to go into the grommet and fits perfect and attached a hose to connect the the catch can.
I really hope Corsa gets it together and do it right! Otherwise they should just stick to making exhausts.