Joined

Apr 26, 2007
Messages

649
Reaction score

171
Location
Powerflex Performance Bushings
– Install & Review
PFF/PFR-27: Jaguar S-Type (98-02) / Lincoln LS (00-06) / Ford Thunderbird (02-04)
Product Page - Click Here -

Overview:
I wanted to make a thread to document my process with overhauling each of the 24 bushings on the LS. After searching online, discussing with other LS owners, and looking at what was available – I came across Powerflex-USA and decided to purchase and test. Please read on for background, install, and a review.
Background - Who and what is Powerflex?
Powerflex (PF) originated in the UK in 1996, and is ISO 9001 certified. They make aftermarket/replacement bushings for various applications. Mostly automotive. I have used their products before in non-LS applications with great results. Powerflex explains some of the benefits on their website of running powerflex over a stock rubber bushing. These benefits include but are not limited to:
- Increased bushing life
- Increased handling and precision
- Better braking and extended tire life
- Less dynamic alignment change under load, and decreased bushing deflection.
Their FAQ and "Why Poly" sections of their website are great resources if you are not familiar with poly-bushings. PF uses two proprietary blends of poly, street (
purple
) and race (
black
). Race is roughly 15 durometer stiffer than the street blend. Increase in NVH with a poly bushing swap is rare, but your results may vary, depending on application and position of the bushing. Powerflex also warranties their bushings.
Compatible Parts for our LS:
When I initially went on their site I found that they offered Jaguar S-Type bushings – but nothing listed for the LS/T-Bird. Being a UK based company, it was no surprise that they offered a few Jag parts. After contacting the company about LS part availability – I was sad to hear they had not done any test fitting of the S-Type bushings to the LS. I noticed that there were two S-types listed: a 98-02 range, and 02-09. The chassis number (27) was the same in each group, and worth nothing, this number is also shared with the Jaguar XF product line.
With a hunch on cross-fitment to the LS, I decided to research if any Jag guys had reviewed these before taking the plunge. Research on S-Type installs directed me towards various Jag owners who have ran the PF product line, and after some changes and revisions to the product from those pioneers, the bushings available today have yet to receive negative feedback from the community. With a warranty and modified design that should out last the OEM setups found on all DEW98 cars – It was time to give it a shot.
I decided to order one of every 98-02 product they offer – knowing that the later S-Types have the redesigned front lower arms, I felt safer with this earlier product line being compatible with the LS. Below is their product diagram showing all control arm locations, as well as front and rear sway bar bushings.
Diagram Picture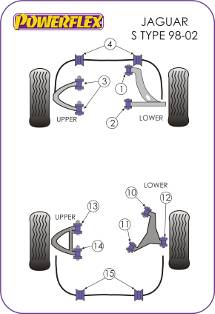 Products after arrival
The only bushings not offered by PF for the car are upper strut mounts, rear differential, and rear toe link bushings (knuckle side). PF told me that they tested a rear toe design and determined it was not a good location for a poly application.
Without knowing if any of the bushings were compatible to the LS, I decided to order a spare set of control arms to work on. I ordered each of the 8 LS control arms from BWAuto Dismantlers – Great Auto Recycler to deal with and good prices. 3 days later the arms showed up.

OEM Lincoln LS Control Arm Set
Each arm is labeled with a corresponding bushing number found in the PF diagram. Basic eyeballing suggests the bushings are all the right size.
Front Lower Arm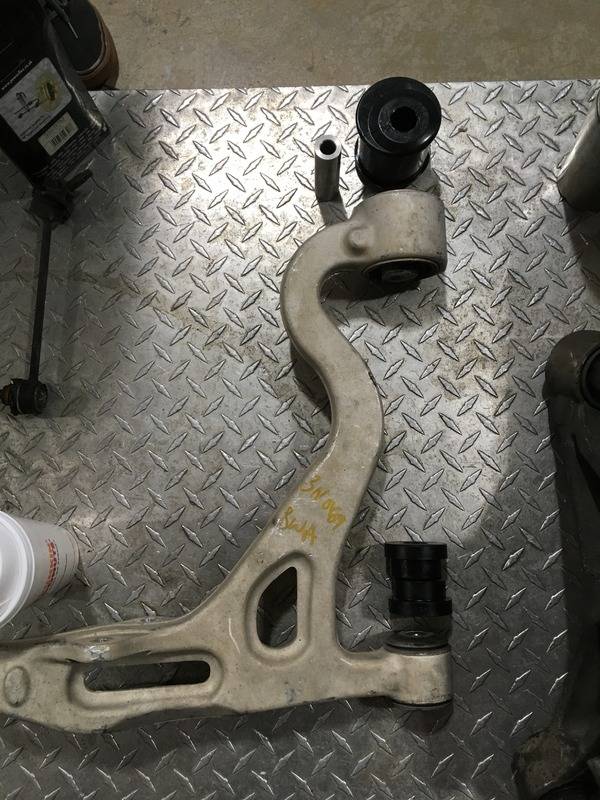 Front Upper Arm
Rear Upper Arm
Rear Lower Arm
(Note the sleeved design of the rear lower units) This allows for easier installation as one side has a shoulder preventing it from going in too far. The shouldered edge mates to the machine face of the control arm. The bushing will seat itself halfway, and the remainder of the unit needs to be pressed in until properly seated.

#610 half pressed in
Removing OEM Bushings:
Feeling good enough to move on with the project after measuring, the next step was to remove the stock units. This can be done the hard way (torch, cutting, pounding) or the easy way (Shop Press, 20+ ton typically). I used both methods based on what was available to me over the course of 1-2 weeks. Using the right tooling is critical to prevent damaging the cast arms. If you have access to grade 8 or 10 hardware, you can also make your own press tools with metal pipe, washers, and flanges. I only had success with installing bushings this way, not removing. My bolts broke due to using a low grade bolt. For the rest of the bushings, I heated the arm (not the bushing directly). After a few minutes the rubber bond to the OEM sleeve will melt, allowing you to pop out the center section, and make a relief cut into the metal sleeve. NOTE – none of the OEM bushing sleeves are reused with the Powerflex units. If you do not have a vise, torch, hack saw, patience, or eye for safety, PLEASE leave this to a shop or press operator. I had a few "whoops" moments that made me want to slow down and take it easy. Please exercise caution and care. Stay safe out there! A few in progress pics of this process.
Custom press tooling. I would recommend more washers as these can compress.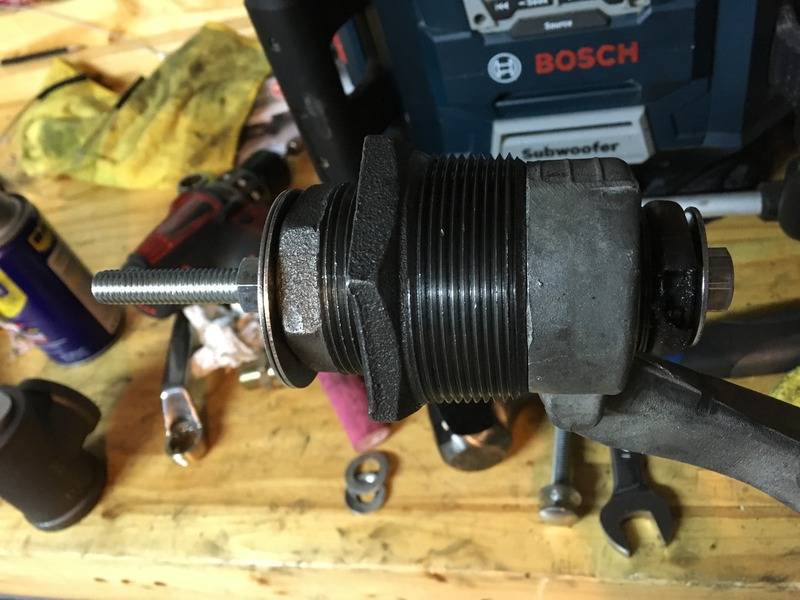 Fire
Center portion punched out after burning
This is position #610 – the all rubber bushing found in the rear-lower control arm. This unit I heated the arm to remove the rubber, and then used a hack saw to make a relief cut in the sleeve. Once the cut is made and the sleeve can be pried up into the hole, pressure is released, and the sleeve is tapped out. Be sure not to cut into the control arm.
610 relief cut
The front Lower control arm has two unique elements. The first being that the large front bushing is offset towards the front of the car, and also has an offset through hole that is inset towards the center of the arm/outside of the car.
Offset bushing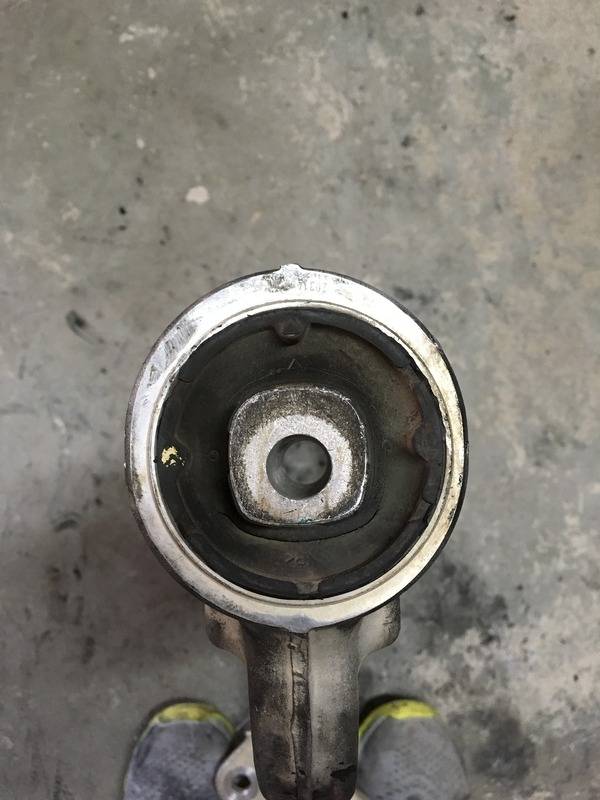 The other unique element, is that the rear position bushing is a multi-layer bushing, and is of a two piece design. At first glance it appears the arm has a lip cast into the edge of the bushing housing. But a light tap on this edge reveals it is indeed the outermost layer, or outer sleeve of the OEM bushing.
#602 Lip
PF did not include instructions for this bushing, and without being able to confirm the ID of the arm, I proceeded to remove the center section(s) first, in case I needed to retain this sleeve. I first cut the outside bushing collar off to reveal a cross section. Then I guided the saw blade through the bushing hole and cut a radius cut until hitting the last layer of rubber. See cross section below.
602 cross section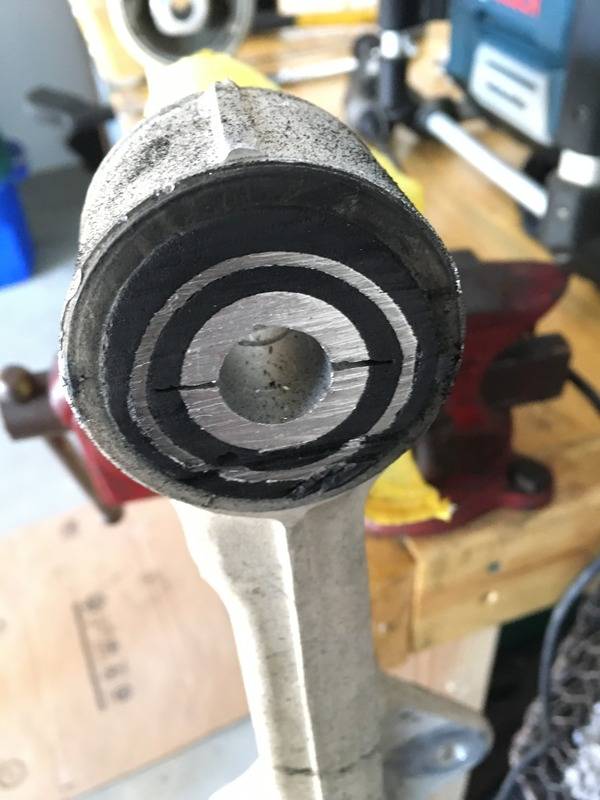 Two more layers out
At this point, it was apparent the bushing was split into two halves, and pressed in from both sides of the arm at the factory. (Powerflex also uses a two-halve design for their replacement). So I removed one side only to test the diameter. Without the sleeve, the powerflex unit fit nice and snug, so out came the rest.
602 outer sleeves
If replacing this bushing, you do not need to cut layer by layer like I did, I would start by prying or tapping out the outer lips in a circular motion around the arm. Once you have enough surface area, you can bend the bushing inward and relieve the outward pressure into the arm. Then pop out each half.
The remainder of the bushings are straight forward. Press or punch them out. A proper shop press will make the best use of your time. When you are all done, you should have a pile similar to this.
Arm Prep:
Any flashes, cuts, grooves, scratches on your arms from the removal process should be ground down with a rotary/sanding tool, then smoothed over. I used a dremel sanding bit, then some 400 grit, and finally a scotch brite pad for final cleaning and smoothing. When you are all done, you should have a clean and debris-free hole for your new bushings. Safe from tearing into the new Poly units.
610, pictured earlier – all clean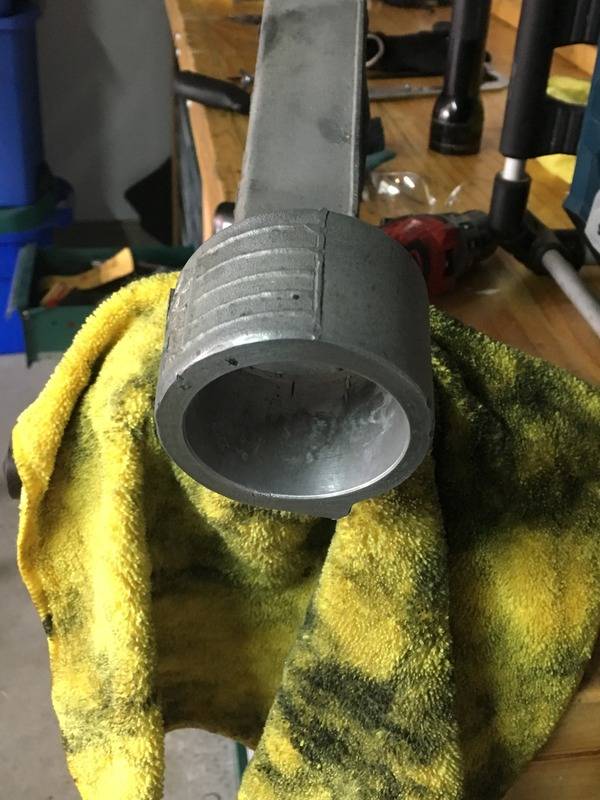 Front Lower Arm – front position (offset bushing)
Front upper control arm
Installing the new bushings:
Install is essentially the reverse of removal. A majority of the poly units can be installed with a vice and sockets/various plates if you are careful and apply equal pressure. Otherwise a press, ball joint press, or other creative ways will work. Again – SAFETY FIRST. If you have to ask yourself "Is this method safe?" then it probably is not! Ask a local shop to assist you. Most will charge $20-$75 for pressing things out and in if they have the tooling and you bring them the arms already off the car. The rear lower arm bushings need to go in one direction – the shouldered edge of the bushing shell should rest on the machine surface of the arm. Be sure to use the metal sleeve when pressing, and try to avoid contact with the poly as you could over-compress and damage the material, prematurely causing it to fail. Secondly, the large front lower arm bushing needs to maintain its original offset orientation, and is fed in only one way. PF engraves and arrow on the side of the bushing to assist your install. All others are non-directional bushings, and need to be installed as you would a normal bushing.
After bushings are in the arms, it's time to lube them up and pop in the metal bolt shafts/center guides. Powerflex supplies one of two types of grease for this. One is a PTFE and the other is a copper based grease. I used each of the PF greases where supplied. (They give you small packets in each product box). You want to apply grease to the center bore of each bushing, as well as the exterior of the center shaft (bolt guide). Wipe away an excess after you insert the guide. Check for tears, or uneven mounting, and admire your work.
Upper Arms
Front Lower
Rear Lower
Arm Install:
At this point your arms are ready to be installed into the car. The only thing to note would be that positions #10 and #11 include washers for each side of the bushing where they meet the knuckle and sub-frame. Otherwise, you can use the stock repair procedure for installing these arms onto the car. (See link below). Remember to only loosely tighten all bushing hardware, and torque each after the suspension is compressed at ride height. I used a jack under the knuckle to compress my suspension for final torqueing.
Rear Bushing close-ups (note washers)
Front Installed Pic - Upper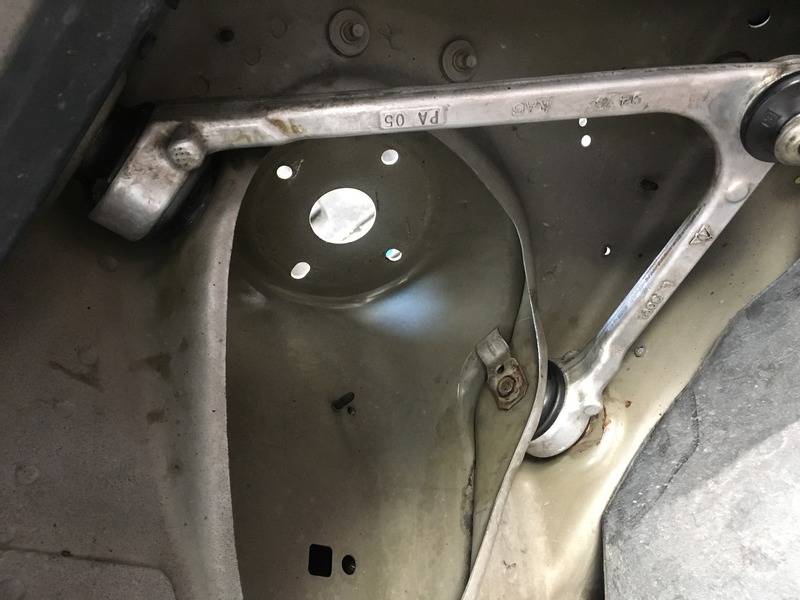 Front Installed Pic lower – Note new cam bolts used (Moog Part)
If any bushings make noise after install, you likely did not apply even coverage of grease to the center shaft. So be sure to be liberal in your initial application.
Various recent topics have been discussed regarding the End of Life (EOL) for many of the LS suspension hardware, that per the manual is not to be reused. These bolts are not torque to yield (stretch bolts) but all nuts have nylon inserts due to variable expansion of the arms vs its steel mounting location. If you cannot source new hardware, I recommend cleaning any corrosion and residual OEM thread locking compound of the bolts. I did this with a wire wheel. Then reapply some thread locking compound to the threads before re-installing. The BEST method is new hardware. The dealer reused all hardware on my recent warrantied arms, for what its worth.
Rear sway bar bushings (17.5mm – Sport models only). Will require slight modification (shaving) to fit
**NOTE – these are very stiff, but so are the stock units. This is probably not a huge upgrade, and it's a bit of extra work – so if your stock units are not in bad shape I wouldn't bother replacing unless you are hell bent on doing the full poly conversion. My stock ones were cracked, and upon removal they fell into pieces, so I was ok with modifying these to fit.**
Before your new rear arms are bolted up and since there is nothing in your way, now would be a good time to loosen the 4 rear sub frame bolts, lower the subframe, and unbolt the brackets that hold the rear bar to the sub frame. You need the subframe down roughly 1.5". Maybe less if your hands are small enough. I highly recommend a ratcheting box wrench for this. And small hands for handling the hardware in this area.
Subframe Lowered
The powerflex sway bar bushings are labeled as 17.5mm, however, I noticed that mine were barely 17mm at the ID, and the LS sway bar is between 18.0-18.5 mm. I used a dremel to bore out the inside a bit, a round file would probably also work. You want enough room to grasp the bar, and not put too much compression stress on the bushing when bolted. This would be an easy fix for Powerflex as the exterior dimensions are compatible from the S-Type, but not internal. Again, based on the modification needed – purchasing is not recommended if you need new ones.
Stock vs PF – RSB Bushings
Bushing Dimension Pic – before and after modification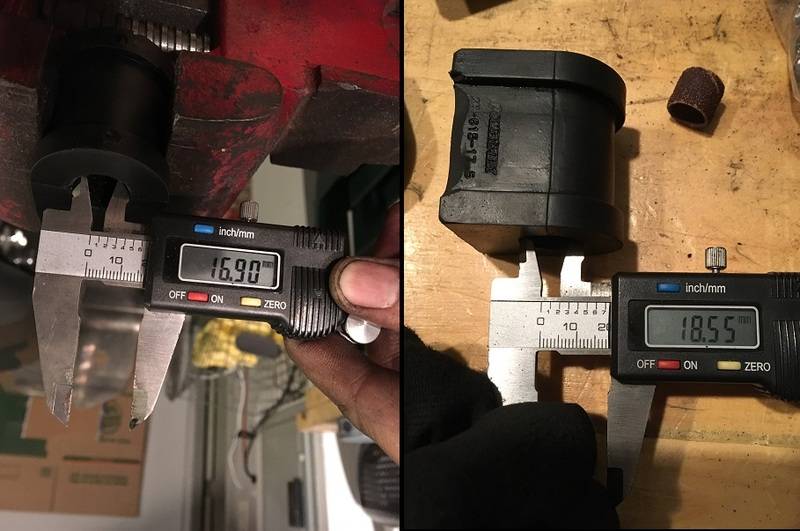 Normally, I would have taken the measurements and sent them back to PF – but I needed my car for work, and the stock ones fell apart on me so they weren't going back in. I also had to trim the bottom edges a bit to fit snug into the brackets. Each time I test fit the bushing, I could not get it to wrap around the bar completely, and the bushing would not seat fully. I trimmed it lightly until I got a nice snug fit. The final ID above is where I left off.
Fitment Comparison
Bushing Closeup – Note the trimming on the bottom edges to conform to the rear subframe brackets.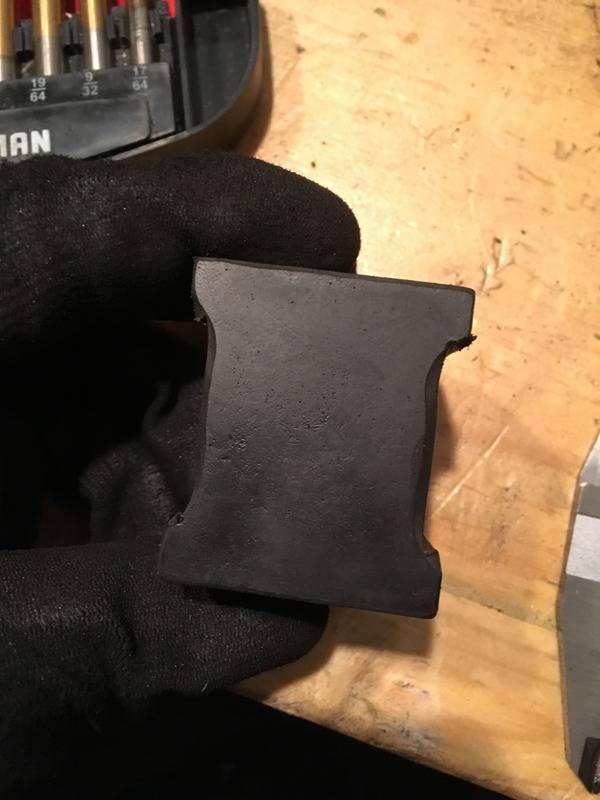 Finally, I was able to initiate the threads of the bolt and locking nut, and I was able to torque it down.
Tighten the clamps and re-secure the rear sub frame. Install your rear sway links and remember they should attempt to be tightened with the car at rest, to avoid pre-load on the sway bar. I also like to rotate the sway bar before installing links to distribute the grease around the bushing.
Front Sway Bar bushings – 31.5mm. - NOT COMPATIBLE with GenII LS
The powerflex S-Type units for the front bar
will not
fit the gen2. The gen2 (03-06) has an integrated design that clamps the bushings. And the brackets cannot be reused. These may fit gen1, but I was unable to confirm. The bushing does however fit over the gen2 bar, but you cannot reuse the OEM brackets. It may be possible to purchase these units, a set of locking collars, and Gen1 (or jaguar) brackets.
Front Sway Bushing Pic

Summary:
So there you have it! Jaguar 98-02 Stype control arm bushings from Powerflex do indeed fit the Lincoln LS (00-06) and are a suitable and warrantied replacement option for those looking to upgrade, or simply have a serviceable unit. I would rate the difficulty of this job a 6 out of 10, in that without access to a press it can be time consuming. After the first few though, you get the hang of it. If your LS is your only car (like mine is to me) then I recommend picking up a spare set of arms to work with from a junkyard or part-out. It allows you to take your time and split this job into manageable parts. Press out, clean, press in, install. The work of swapping the arms is not too bad, but would take most of a day. As always, perform an alignment after installation, and follow OEM tq specifications for all bolts on the vehicle. Enjoy the new sharpness and precision in the LS, and start carving roads without worry of those torn bushings.
If I had one complaint, it would be that PF did not include instructions for all units. Only Position #1 and #11 were accompanied with instructions. The rest are I guess, self-explanatory, and you can apply #11's to both #10 and #12. But if you only ordered #12 – you would never know those instructions exist. Since I ordered the whole kit, I was thankfully informed. Use OEM repair manuals online or printed for reference. (see Link Section Below).
Cost:
While pricey, consider the cost of a replacement arm, or if you are a long term LS owner, the cost potentially second replacements of the OEM units you replace it with. PF is on par with racing green replacement cost, and with the added warranty from PF, you are in good shape if they ever go out on you. If you were going to pay a shop to remove the arms, swap bushings, and reinstall, then this may not be the best project for the "not in love with your LS" crowd. But I DO love mine, and can appreciate an improved handling dynamic, so this was a no brainer for me. My front uppers wore out, and my rear lowers were shot as well. It was only a matter of time before the front lowers and rear uppers went out. My car is a 2006 and had 78k when I pulled my arms. Worth noting that every single bushing showed signs of damage, or wear.
Total Estimated Costs:
Bushings - $900 Shipped
Spare arms - $350 Shipped
Press Labor - $50-100
4 Wheel Alignment - $100
Misc. Tools, blades, beverages - $25
----------------------------------------------------
Total - $1,425-$1,475.
Conclusion:
Please let me know if you have any comments, concerns, or questions and I will do my best to answer or edit my post accordingly. My goal was to test fit this product and let the LS community know that we have some more options (and in my opinion, BETTER options) for bushing replacement. Please see my next post for a full review of driving feel, and an eventual long-term review.
Thanks to: LLSOC & LVC, BigRigLS, TiJoe, Dave, Lynn and Jonathan @ PFUSA, Billy Brand, Mike Roth, and Dom B. For your all your help with this project.
Resources:
www.powerflexusa.com
Moog Camber Bolt Kit:
http://www.aftermarketsuspensionparts.com/moog-k80061
Bushing Removal w/o a Press (Great write up)_
http://www.aftermarketsuspensionparts.com/blog/how-to-burn-out-suspension-bushings-the-right-way/
Gen2 Lincoln LS OEM Repair Manual by Owlman
http://deneau.info/ls/