I don't really have the time or the want to replace the factory/dealer setup in my 97. It is a cassette deck with a dealer installed 6 disc changer on the passenger side.
I have semi-reliably been using a cassette adapter plugged into a Bluetooth receiver, using my phone for streaming Pandora/Slacker or MP3s or Audiobooks.
Even after dialing in a cassette adapter (I grab any I find at the you-pull-it place) to work 95% of the time, it still was an annoyance. I found that I could reverse the insides, play it as side 2, and it rarely would eject or switch sides.
I planned on first trying to tap into the CD changer inputs, which means leaving the changer in the trunk (I burned a 74 minute silent track to a CD). I grabbed the connector to a radio that has the audio ins/outs. Releasing the back end of the plug, and using a dental pick to release the female pin, I took four of them out.
20140918_161204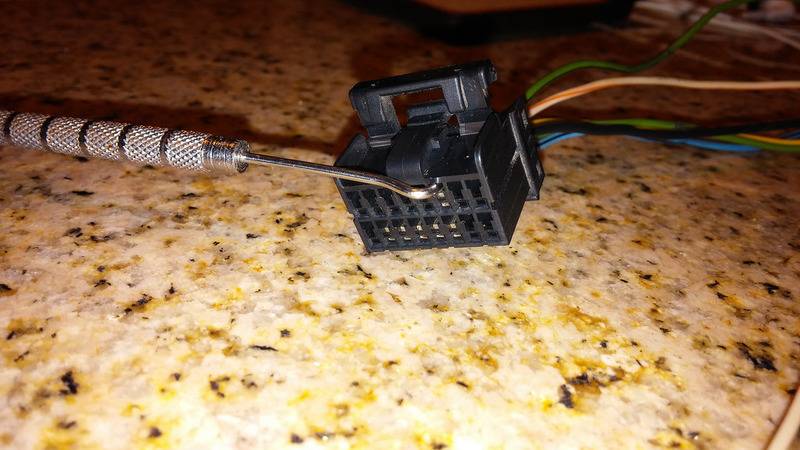 20140918_161308
20140918_161219
20140918_161225
The car physically has a non CD changer connector, then TWO CD changer cables (I assume one is factory drivers side 10 disk, and the other is dealer passenger side 6 disc) that connect at a jumper harness, that goes to the radio.
20140920_114030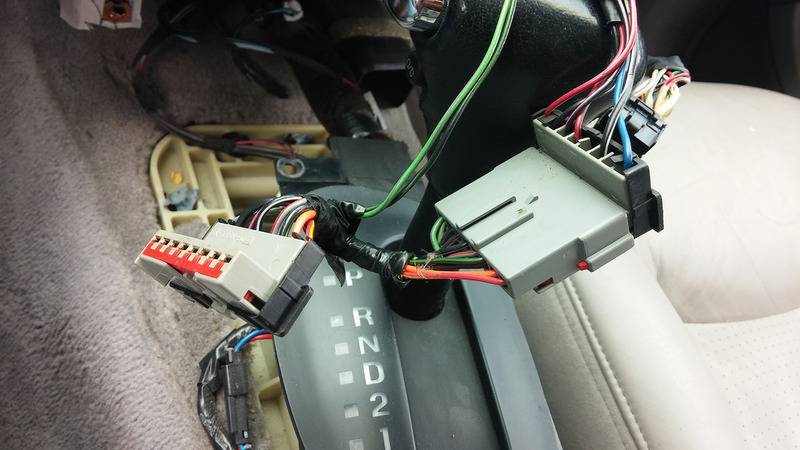 20140920_114225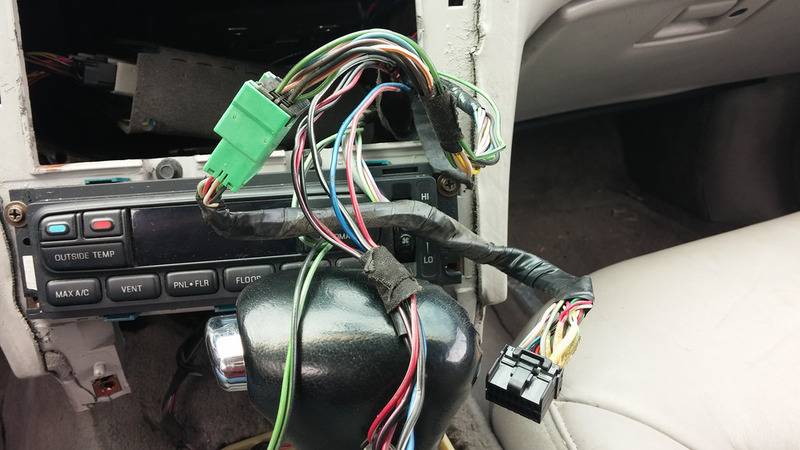 20140920_114232
20140920_114638
20140920_114648
I flipped open the back of the connector, and again used a dental pick to make it possible to pull out the 4 audio ins from the CD changer. I soldered the wires pulled from a junk harness temporarily to a set of female RCA jacks (this became permanent after it worked, as there is room for them). I then isolated the audio out from the CD changer wire(s).
20140920_122450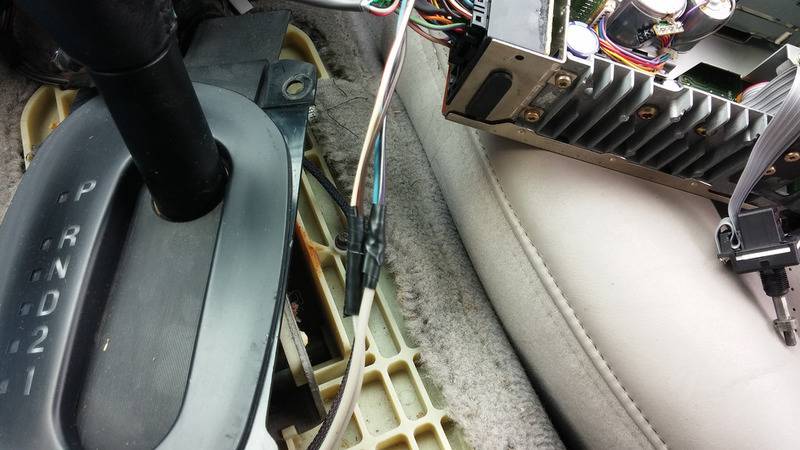 20140920_122455
20140920_122511
I then added a 12v->5v 3a USB power adapter and a 12v power point to the switched (and delay exit) power for the Bluetooth receiver and the DVR.
20140920_151058
20140920_151108
20140920_151121
I had already "mocked it up" and verified that it worked. I am not exactly sure what happens at the end of the one 74 minute song on the CD, but using one with 30 second "songs" it didn't affect the sound output.
Also my factory head unit was pretty messed up (as was much of my center console and dash). The passenger side spring retainer was bent and broken, I had to remove the message center and smash it to get the radio out. Also 75% of the time the passenger side output was half of what the drivers side was. I dremeled off a new spring retainer from another Ford radio I had from my 2000 Grand Marquis, cleaned up the wiring out to the amp, and the volume switch (I swapped it out with another, but it still won't turn off).
So now no more cassette adapter with wire hanging out of the dash. No more plugging and unplugging of the Bluetooth receiver. No more hitting a bump and the adapter ejecting.
It is pretty hacky, and the hours I spent doing it probably would have been better spend on installing an aftermarket head unit and bypassing the amp, but this is what I enjoy doing, and haven't been able to do anything to a car to make it more what I want in a while.
First time the radio has fit correctly in the dash since I have owned it
20140920_171927
I also had a broken ashtray lid. I got another, but it was ivory, so I decided to use the same carbon fiber sheet on it and the rest. I plan on doing the wood on the doors, I already have done the radio surround but need to fix a few things with it before installing it. I also added another non switched USB power adapter with two ports to the extension off the cigar lighter used for the optional phone.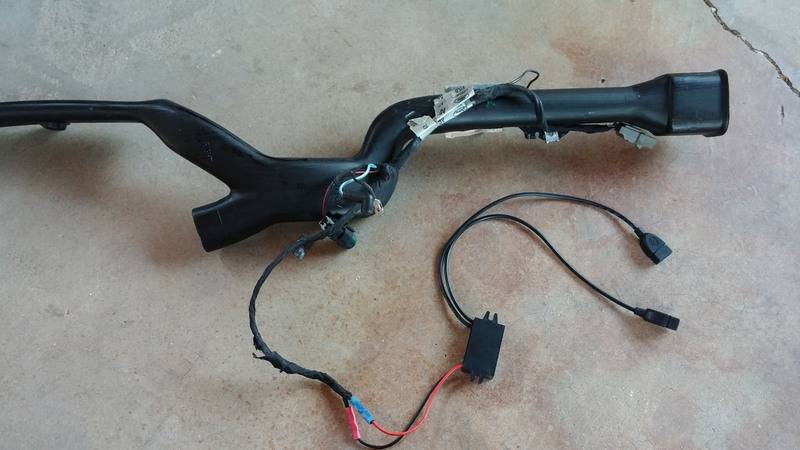 20140920_151649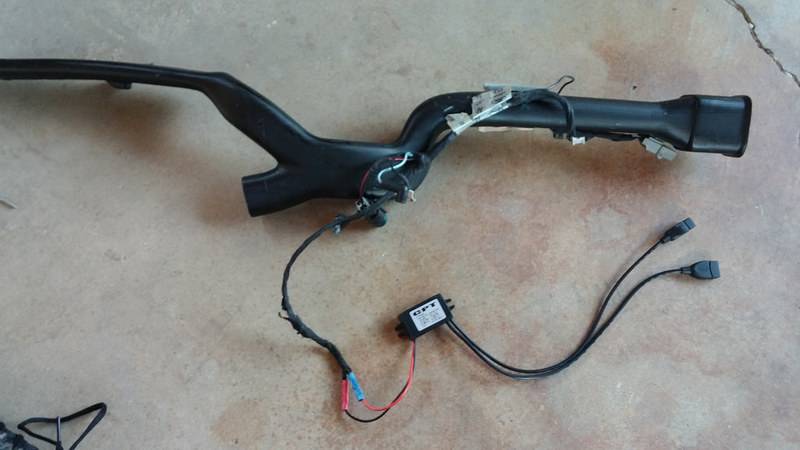 20140920_151701
20140920_172435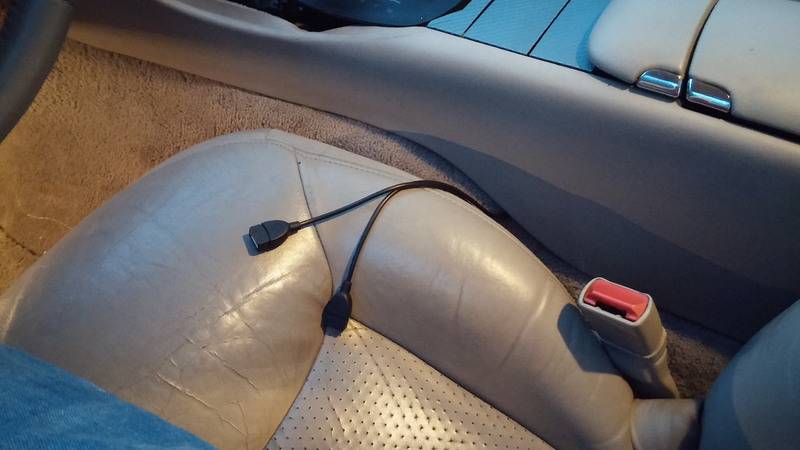 20140920_183912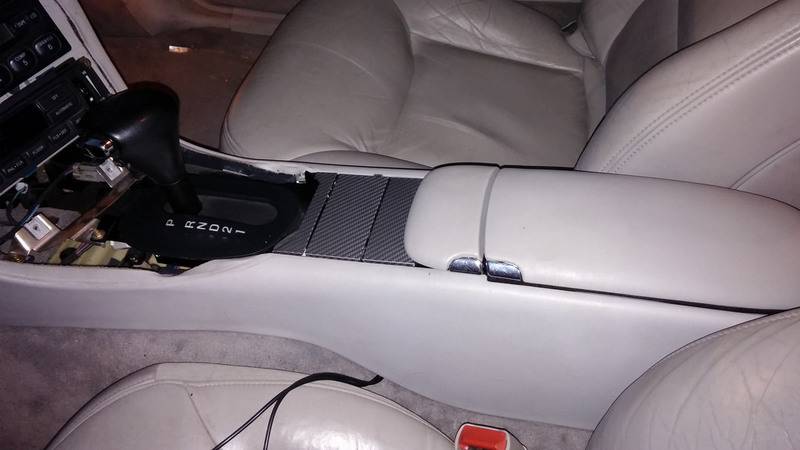 20140920_183923
If I don't like the carbon fiber, this at least lets me fix the broken Graphite ashtray drawer and filler piece. I am not sure I like it, or how it fits in with the carbon fiber covered radio surround, but it was 5 minutes work on 2 dollars worth of parts, and only about 15 minutes to remove the console and the ashtray/cup holder section.
20140920_112336
20140920_112341
20140920_112348
20140920_113724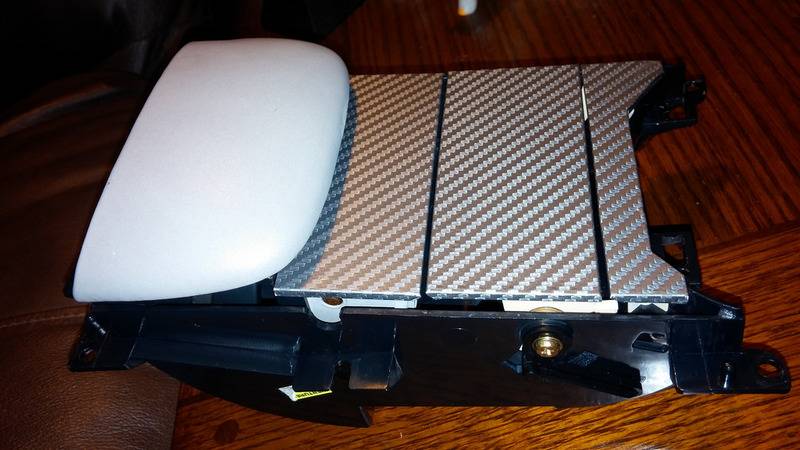 20140920_113740
20140920_120224
20140920_183855
20140920_184014
I had expected a nasty looking collection of soda and stuff, but pretty clean:
20140920_114012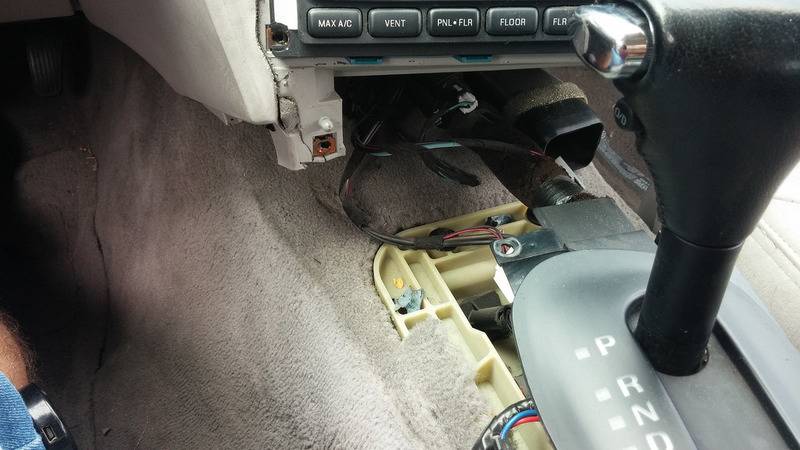 20140920_114024
The car camera/dash cam/DVR that I wired in to turn on with the key, and turn off with the delayed exit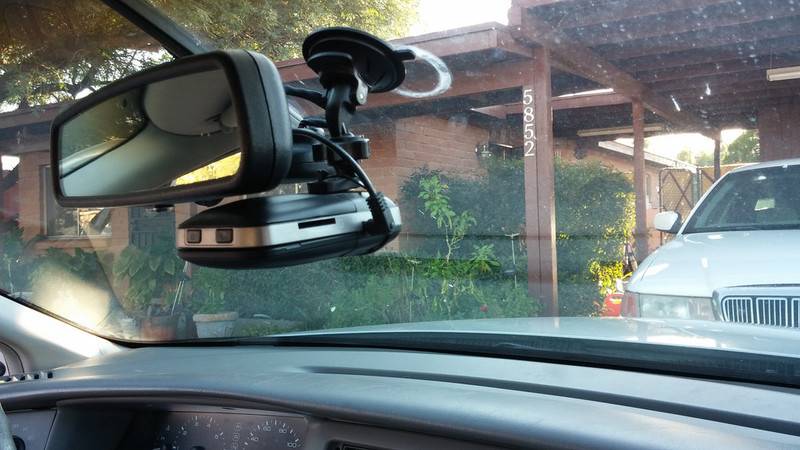 20140920_171847
20140920_171901
20140920_171922
Yes, I used T-taps, and butt connectors for some of the connections, and electrical tape instead of heat shrink tubing, but it is all solid, and if/when I get some actual time to work on it, I will improve on it. I have a couple more types of USB power points I want to add. In addition to the Bluetooth receiver, I always have at least 2 things to charge, sometimes use a GPS, and my family all have things to charge, so there is no such thing as too many USB chargers.
I would love to get rid of the CD changer. I thought I knew what type of signal this CD changer put out, and could emulate it with a board, but I found out the information I had was for newer changers. I could also tap into the cassette input and put in a dummy cassette, but it is a noisy mechanism.