Joined

Dec 30, 2005
Messages

1,622
Reaction score

12
Location
I wanted to share my install. Goal was to keep it looking factory and clean as much as possible. Car started as 2006 Lincoln LS with factory (sucky) NAV. Pioneer Head unit was installed last summer using the factory wiring, factory amps, and wire harness connection. Removed the trunk nav system at that time. Factory 6x9 subs blew about Christmas time so I pulled the amp and started planning the upgrade. Ended up doing it in a few steps: rear deck damping and sub install, door damping, speakers and amp install, tweeter install. I'm sure that added to my total time invested but I was pretty much limited to weekend work.
Enjoy!
Frontal
Side Shot
Stinger Roadkill. My first time to install damping. Still have enough to do the rear doors and trunklid if the mood strikes me.
Alpine PDX-f4 Amp. Small and powerful
Kicker KSS 6.5 front channel. Did not install rear door speakers
Kicker Comp 8" at 8ohm. Got them cheap on ebay as "new old stock". Did not get a pic before the install.
Kicker Comp 8's with MDF mounting check. Ended up drilling a new hole to mount each one and removed the LATCH clip and used that bolt too.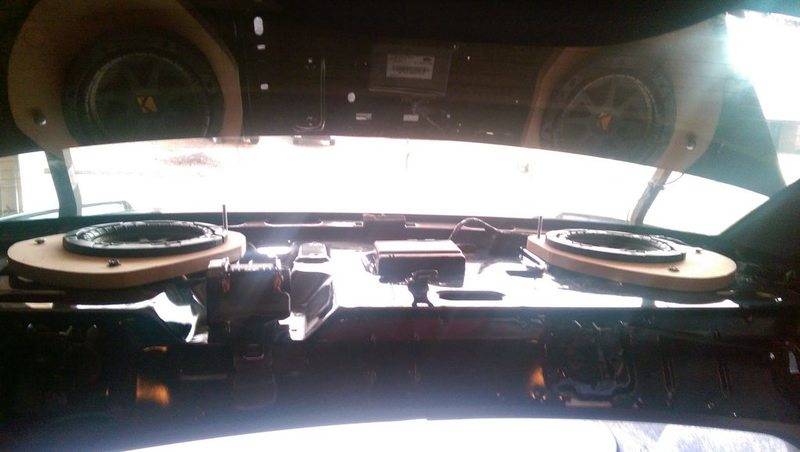 Passenger fitment check
Driver fitment check
Underside fitment check. Those are not the bolts I ended up using.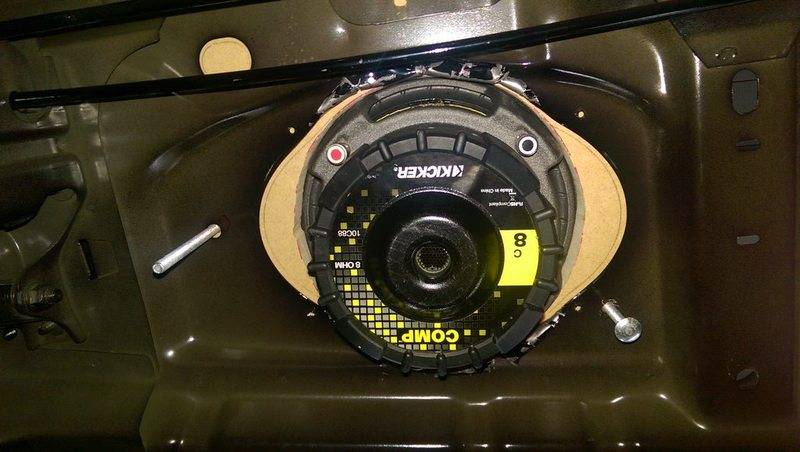 Not any deeper than factory 6x9s
Sound damping underside of deck. I spent a lot of time in the trunk.
Damping installed. No pics of the factory foam under the deck. Had to cut it a little but everything fit back together well.
Routed the speaker wires from amp to subs and crossovers along the trunk lid tension rods.
Removed the speaker cover foam
Plastic was pretty loose, so it was removed also before reinstalling the grill.
Passenger door factory vapor barrier.
Passenger door exposed. Look at those holes!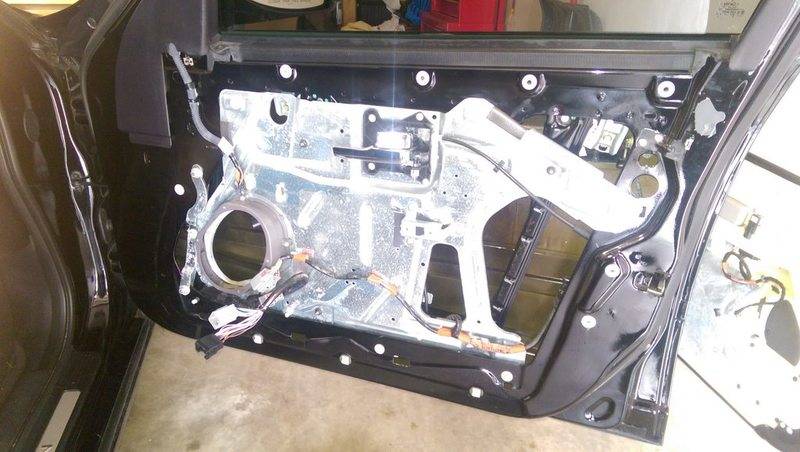 I did end up cutting a little around the speaker hole in the door panels to insure no contact with the 6.5" drivers.
Passenger door damping complete. I did the exterior skin on both doors where I could reach too.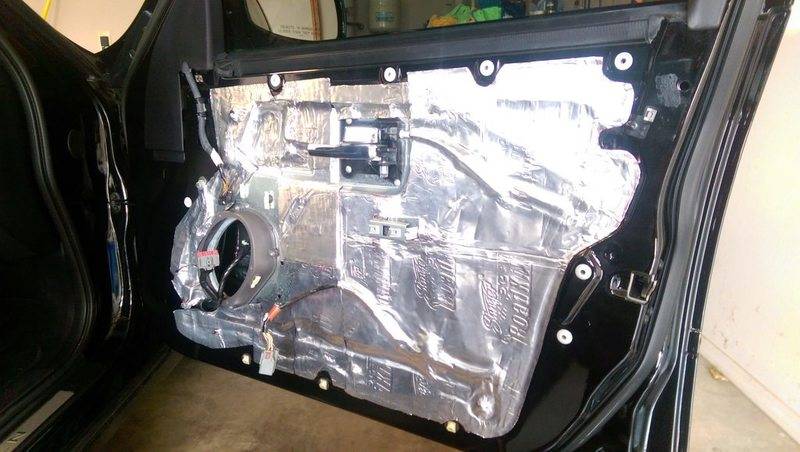 Driver door interior.
Marked the holes for reuse of the factory wiring pins.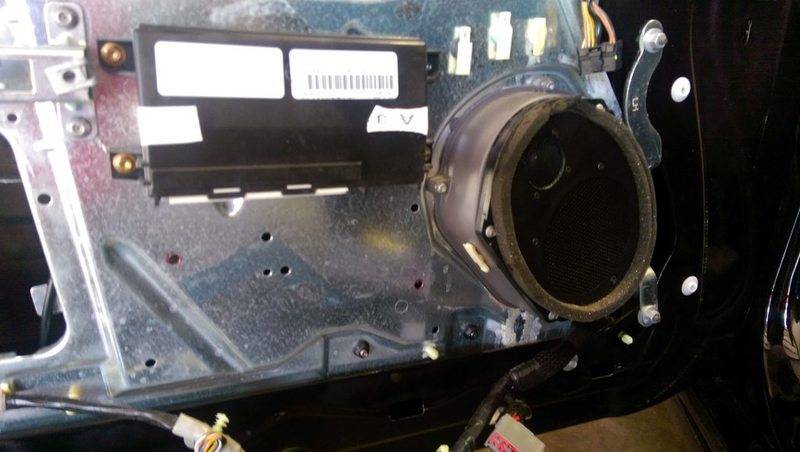 Driver door damping complete. This one was more complicated than the passenger side but turned out well.
Check the driver depth for possible clearance issues. I knew the kickers were shallow going into it.
Made speaker adaptors using cheap plastic cutting boards.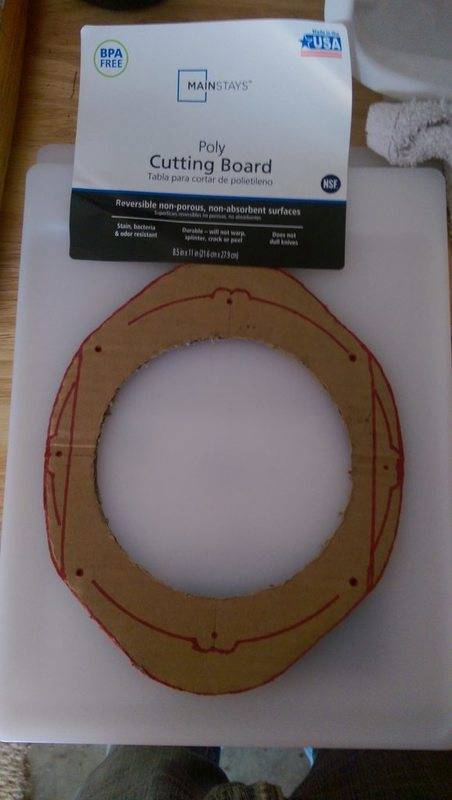 Passenger door midrange installed with the adaptors.
Check tweeter location - sail panel would have to be surface mount.
Check tweeter location - could be mounted like a coaxial with this Kicker system.
Check tweeter location - did not want to cut into the door.
Check tweeter location - ended up going with the dash trim panel that covers the defrost vents thanks to a tip from a facebook post.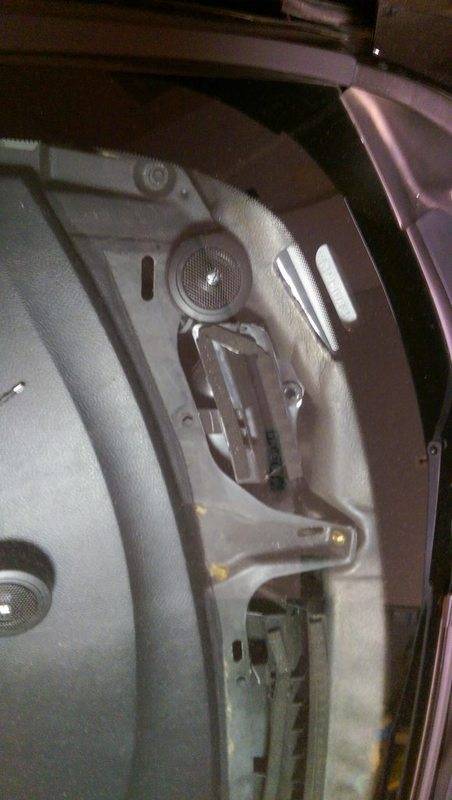 Tweeter install step 1 - tape top surface and mark location on bottom of trim
Tweeter install step 2 - drill slowly
Tweeter install step 3 - used Dremel to finish off the hole
Tweeters in place.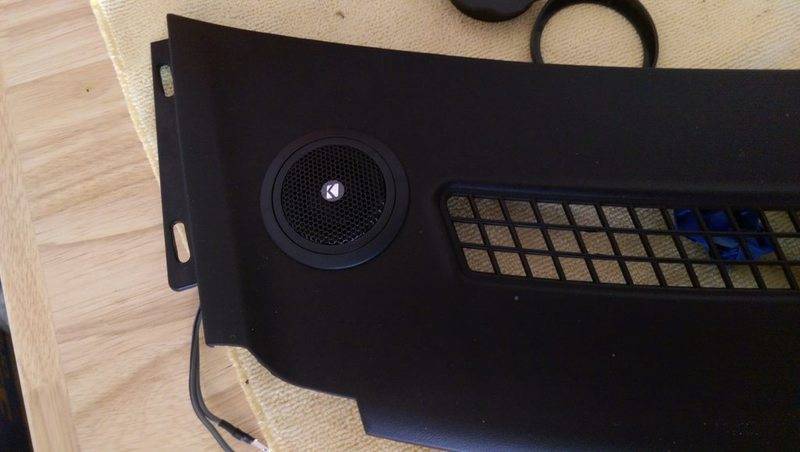 Look pretty nice there too.
Ordered wiring from KnuKonceptz.com 10' tinned OFC 4 gauge with 80 amp fuse, 50' of basic 14 gauge speaker wire, 20' of 4 channel twisted RCA, ring terminals and shrinkwrap.
RCA wire size comparison. It was pretty big having all 4 in one.
Center console routing for wiring to front of car. I considered both sides but this turned out well. Fish tape and prybar made short work of it.
There is a nice channel in the carpet foam on the passenger side of the center console that the wires ran through.
Review of the KnuKoncepts RCAs said the colored markers on the heads of the RCAs came off easily, so I taped them up.
I did not dampen the trunk but may need to do the lid.
Driver door jamb was a mess with the electronic module in the way. Passenger side was bad too, had to loosen the fuse box to get to the door boot.
Ended up pulling the rubber boot away from the door and jamb to make it easier to work with. Grab tool made it a lot easier to get the wires.
Factory 4-channel amp location on driver side behind the carpet.
Had quite a lot of unused cables to stuff out of the way.
Used this location to install the Kicker crossovers. Did not want them in the doors.
Used a similar mounting system for the amp but the REM made this location harder to work with.
Amp ground wire uses the factory grounding location. I ended up removing the key switch the previous owner installed on the ground wire for safety of the amp.
KnuKonceptz wire.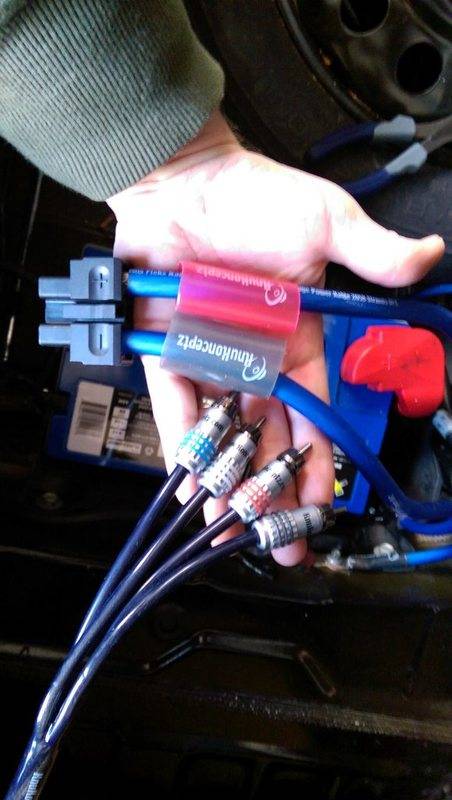 Whole car was a mess at this time.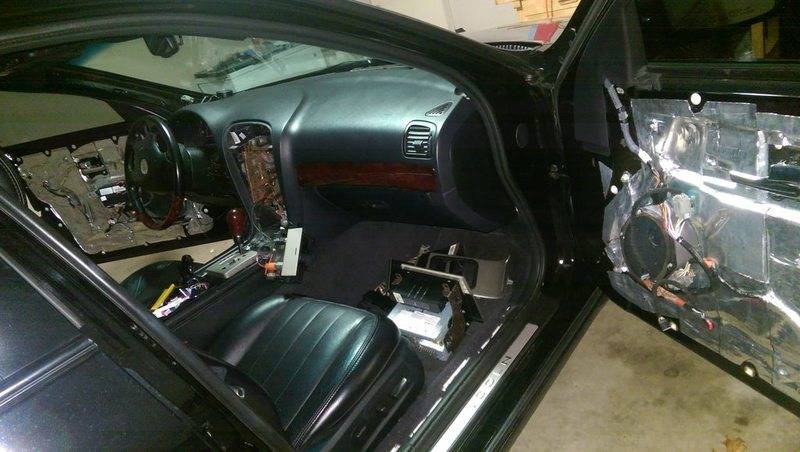 Garage parts pile.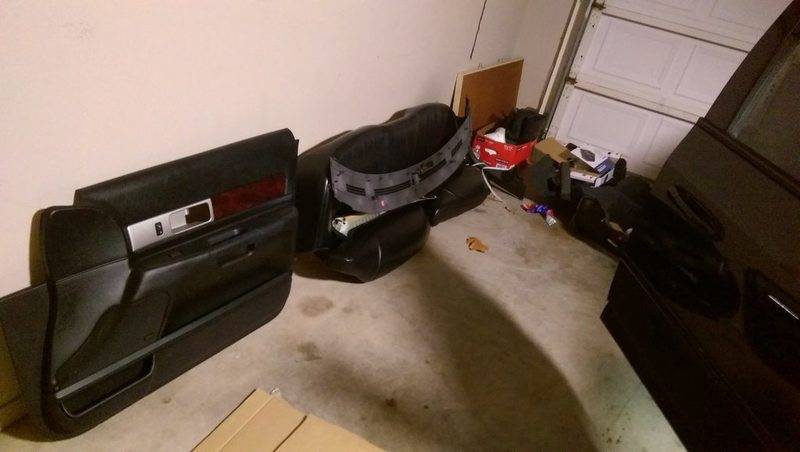 Final amp location visible from the trunk.
Interior carpet on driver side covers crossovers and factory wiring mess.
Head unit removal for new wiring connection. I've done it several times now on my two cars.
Grab tool was a lifesaver. Routed the tweeter wiring over the instrument cluster. Did not get a photo of the final wiring but did end up cutting off the factory adaptor.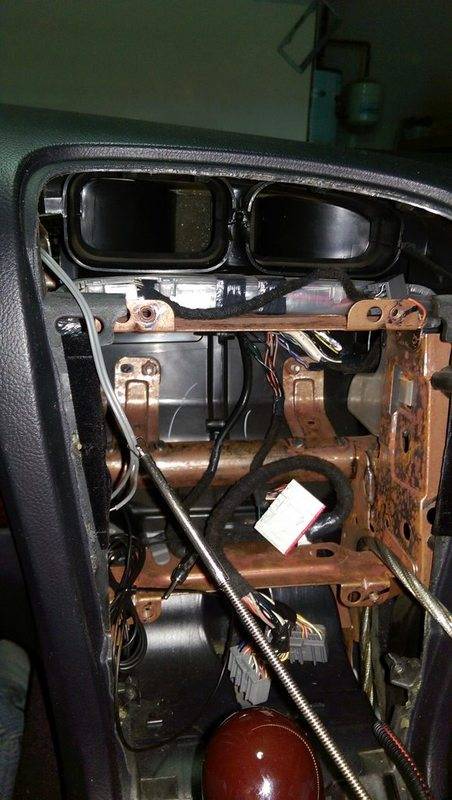 Here is "done time"