As a new Mark VIII owner, I'm coming to realize PVC cement & 3m emblem tape are both key items to hold these cars together! The plastic on my FL car is extremely frail and many of the plastic studs are gone. If you infact still have your door light lenses with original bulbs, this post is for you. First off, if you need to take your door apart, you will stress the red lens tabs and it wont be long before they will just crack & fall off. The permanent fix is to replace the festoon bulb with a LED one that will last thousands of hours and generate no heat. With a LED in place, I went ahead and PVC glued the lens permanently onto the bulb housing base. Today there are LEDs that are extremely bright to the point they are flat out annoying but you do want maximum illumination on the ground and not in your eyes. The way to mod the housing to achieve this is pretty straight forward. First, pop out the red lens, then pry out the base housing. I used black rubberizing wire coating to paint the inside of the door panel light pocket and bottom side of the bulb housing as shown. Also note the cree LED light panel is pointing directly down in the housing.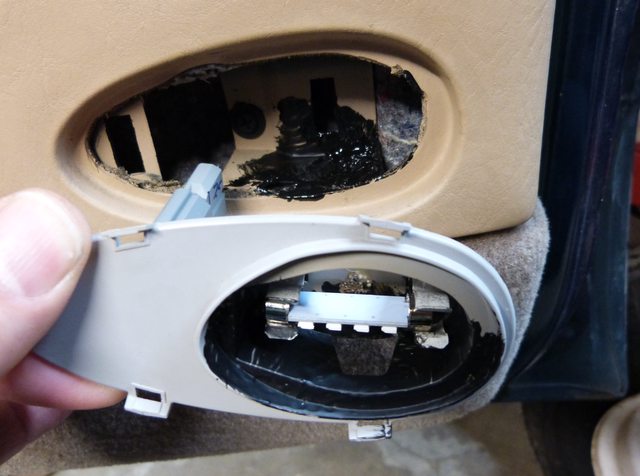 The LED's I chose have 12 emitters on one side of their panel. I bought a set of 20 for 7 bucks off Ebay. If you don't put down the black rubberized coating both in the door pocket and bulb housing as pictured, the LED will be way to bright reflecting back up at you. The black soaks up the brightness so the bright white/blue light is only projected down ward. *** The LED is polarity sensitive so be sure you have it in the contact clips the right end to end or it will not light up. Gluing the lens down on the base ensures a long life for the assembly. I put never seize on the steel spring clips as shown here to make it a sinch to pop out the housing if the need arises to take the door apart.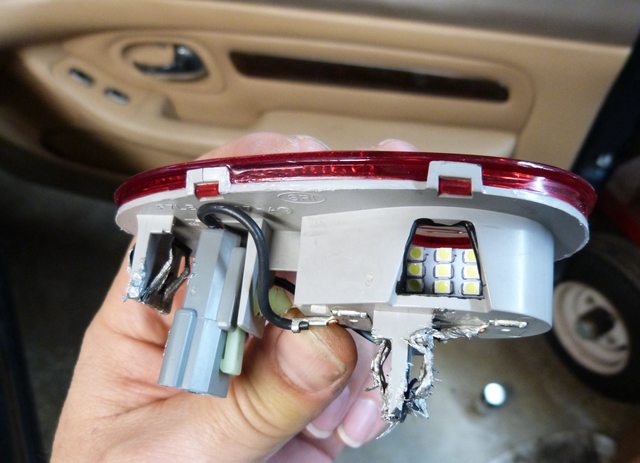 Here is looking down at the light normally and the photo doesn't show it but you can see the horizontal clear plastic ribs on the lens without any eye discomfort.
On the other hand, if you get down on a knee and look up at the light, its waaay too bright to look at.
Now the problem of disintegrating lens plastic is gone for good!
Here are the bargan bulbs title, 20x Super White 44mm 12-SMD Festoon LED Dome Map Interior Light Bulbs 212-2 6411